February 17, 2022
—
The Necessity for Delisting of the LTTE, the Protection of  Tamil Rights
and the De-Stigmatization of the Global Tamil Diaspora
Marking 20 years since the 2002 Norwegian facilitated Ceasefire agreement between the Liberation Tigers of Tamil Eelam (LTTE) and Government of Sri Lanka (GOSL) on 22 February 2002, the Canadian Tamil organizations are hosting a conference that will focus on:
Understanding the political, legal, and military milestones and pressures that undermined and ultimately led to the breakdown of Sri Lanka -Tamil Eelam Peace Process between 2002-2006

Studying the adverse impact of listing the freedom movement (LTTE) as a terrorist organization during the peace process and multiple listing renewals after the Tamil freedom movement was decimated in 2009.

Revisiting Tamil Eelam's state infrastructure, de-facto governance mechanisms, the CFA between the LTTE and Sri Lankan Government, ISGA proposal, the humanitarian reconstruction proposal P-TOMs

Analyze the unlawful ban and negative light shed on the LTTE.

Highlighting the stigmatizing and criminalizing impact of the LTTE ban on the Tamil diaspora in a post-war context, and its adverse impact on future Tamil generations.
After 2009, Tamil Diaspora is calling for a Nuremberg-like Tribunal to prosecute and hold prominent members of the political, military, judicial, and economic leadership of the Government of Sri Lanka (GOSL) accountable for the crime of genocide. The International community has delayed and denied justice for the horrific events of May 2009, failing to deliver any tangible remedies to the Tamil community. Instead, the international community continues to silence and suppress Tamil diaspora voices through a criminal counter-terrorism lens by extending the listing of the Liberation Tigers of Tamil Eelam (LTTE) as a terrorist organization. This continuous listing, one that persists for over a decade since the end of the civil war, undermines and infringes the Tamil diaspora's fundamental civil liberties from Europe to North America and elsewhere. Delisting the LTTE in every jurisdiction where the Tamil diaspora resides is necessary to protect Tamil Civil Liberties everywhere, including the right to advocate for Eelam Tamil's self-determination under international law.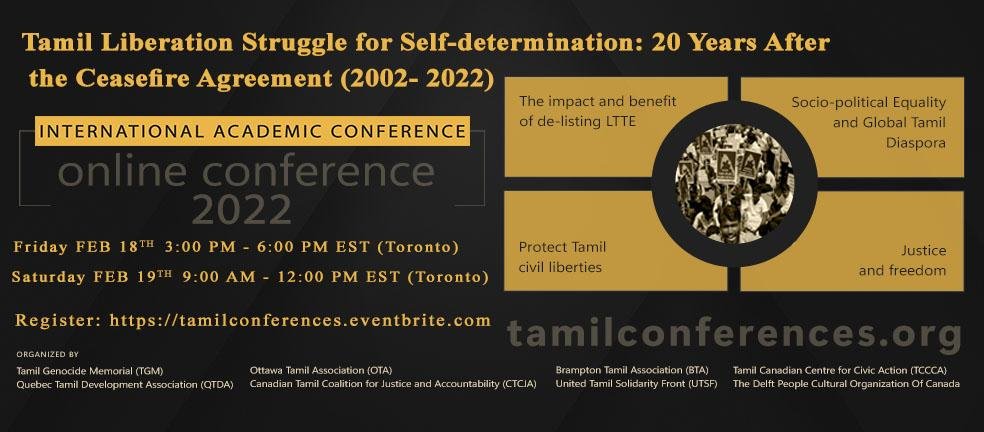 Twenty years after the Ceasefire Agreement (CFA) in 2002, the upcoming Conference examines the failures of the Norwegian-mediated Peace Process in Sri Lanka and the adverse impacts of post-9/11 geopolitics on freedom movements seeking self-determination.
The Coalition for Tamil Political Rights comprising: Tamil Genocide Memorial (TGM), Quebec Tamil Development Association (QTDA), Ottawa Tamil Association (OTA), United Tamil Solidarity Front (UTSF), Tamil Canadian Centre for Civic Action (TCCCA), Canadian Tamil Coalition for Justice and Accountability (CTCJA) is organizing the conference, with additional non-profit organizations around the world to join supporting instituations for the conference.
https://www.einpresswire.com/article/555571004/tamil-genocide-memorial-announces-conference-on-liberation-struggle-for-tamil-self-determination-20-years-after